For professional qualifications, Tengard Holdings Limited has obtained the following licenses and membership:
Professional Insurance Brokers Association (PIBA)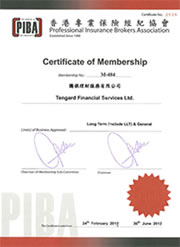 For insurance services, Tengard Finanacial Services Limited is a member of Professional Insurance Brokers Association (PIBA).
Hong Kong Securities and Futures Commission (SFC)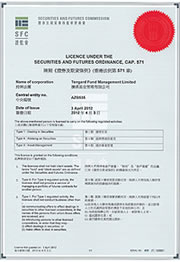 For investment services, Tengard Fund Management Limited is a registered Investment Advisor with the Hong Kong Securities and Futures Commission (licensed to carry out regulated activities including Type 1: Dealing in Securities Type 4: Advising on Securities and Type 9: Asset Management).
Another advantage of Tengard
Tengard is having a multi-disciplinary mix of professionals that combines Investment Managers, Legal Professionals, Chartered Financial Analysts (CFA), Certified Financial Planners (CFPCM), and Chartered Accountants. We will take each individual client's needs seriously, providing an exquisite asset allocation view in order to recommend the composition and distribution of his/her portfolio. We can provide customers with general insurance, long-term insurance and investment-linked plan for asset protection and wealth management services. On the other hand, we also provide professional services on equities and bonds investment, investment portfolio management, commodities investment, investment migration counseling etc. For different types of customers, we will provide a tailor-made investment strategy. With such a comprehensive financial management support, customers do not just reduce the risk of investment, but also enhance the potential return, in order to achieve the expected financial goals within a certain time frame for creating the ideal lifestyle. Tengard does really make customers enjoy a truly "one stop" financial services.